ENVSonic Ultrasonic ANTI-Fouling Technology
The future of USAF / MGPS is now…
The latest release from Globa.tech Australia is the ENVSonic ENVS5-300, the solution to marine growth prevention via ultrasonic antifouling that the industry has longed for.
With this release we have merged the latest in technology, engineering, development and our proven track record as the USAF pioneers. This system is equipped to handle any industrial ultrasonic biofouling prevention needs, based on industry standards for cabinet mounting, remotely monitored and controlled, scalable to any size deployment and intensely powerful.
Contact us today to discuss your needs, we are happy to help.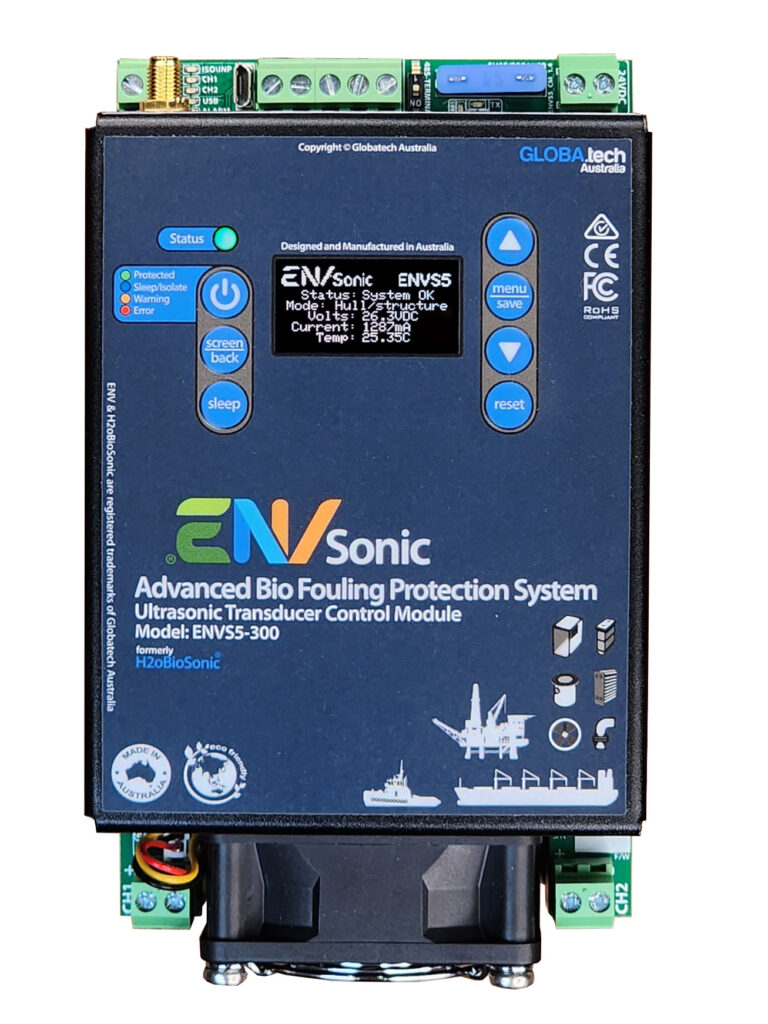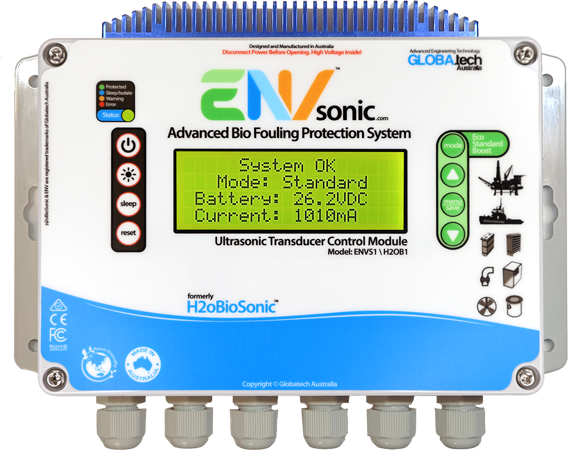 Protect your assets
Suitable for any submerged surface. Protection for everything hulls, thrusters, shafts, propellers, jet drives, rudders to box coolers, sea chests, seawater pipes, valves, intakes and more. 
Protect Environment and Save $$
Ultrasonic anti-fouling is the most environmentally friendly bio fouling solution. Unlike impressed current systems or toxic paints, ultrasound produces no toxin / biocide or heavy metal oxides.
Solutions. End to End.
ENVSonic has a solution for all applications. And can scale or customize any solution for any application. As the OEM we have complete control of our product, end to end. You are supported by the manufacturer.
How It works?
ENVSonic work by producing a series of carefully curated and targeted bursts of ultrasonic energy (acoustic sonication).
These bursts of energy are transmitted via our ultrasonic transducers, installed in strategic locations, into the structures to be protected.
The result is ultrasonic energy generating microscopic bubbles that provide the protection within the water column.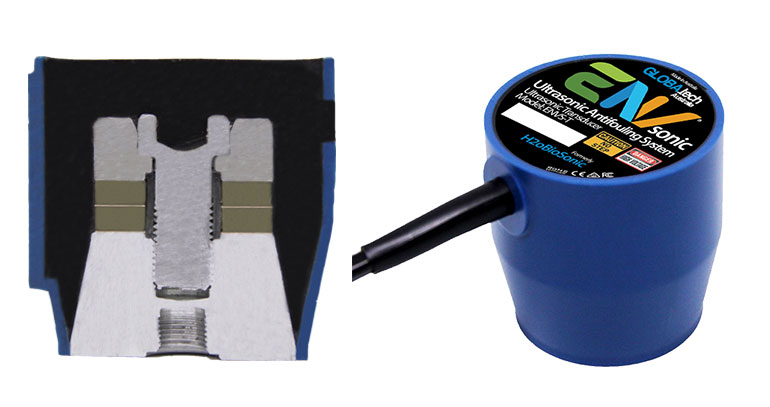 Advanced Technology. Small Package.
ENVSonic Transducers are a sophisticated device consisting of proprietary assembly and material technologies designed to last. From our primary and secondary mass material, our specially treated PVC outer shell or even our own industrial silicone rubber tinned copper cable.
Each transducer is put through a rigorous analysis before being hermetically sealed with a special degassed potting process, completely encapsulating the transducer end to end. Providing an industry leading IP68 protection beyond 10m of depth! Every ENVSonic transducer produced is ready for anything from a dry box cooler install to being submerged inside a ballast tank, for life.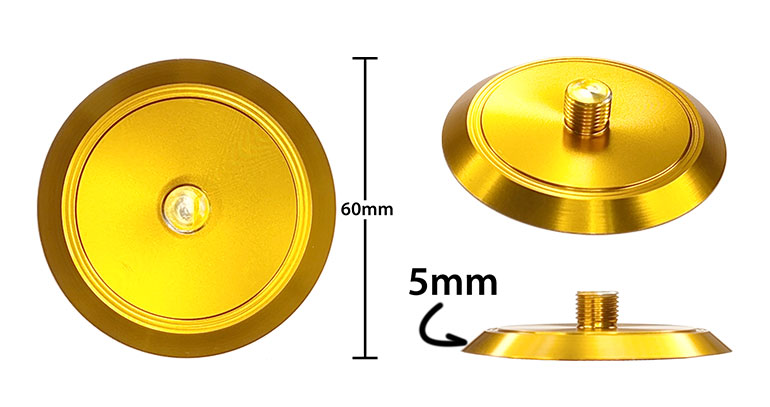 Elegant Mounting Solution. Extreme Results.
ENVSonic Transducers are attached by our patented mounting footprint. This proprietary mounting footprint provides the simplest installation while adding the benefits of a water tight seal, electrical isolation and improved ultrasonic transference over the silicone grease or isolated transducer face methods. By ensuring the transducer is monolithic with the structure using our footprint we are;
Up to 30% additional ultrasonic energy transference
Reduced attenuation.
Eliminating the risk of breakdown of silicone grease
Eliminating the chance of induced loosening due to course threaded plastic fittings
Cutting maintenance, service and inspection requirements.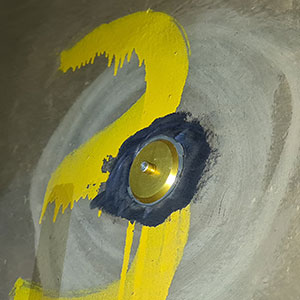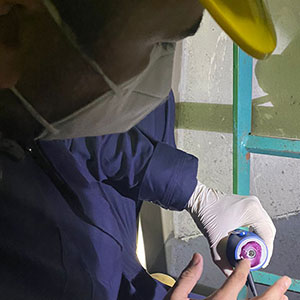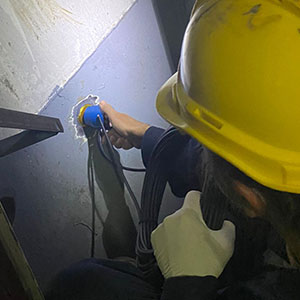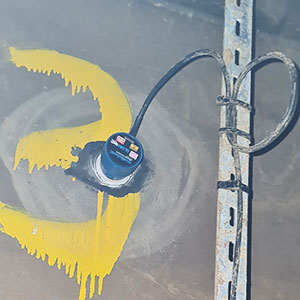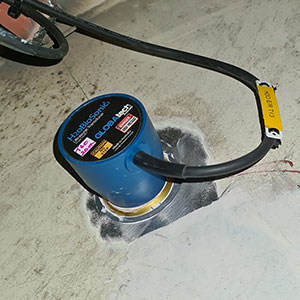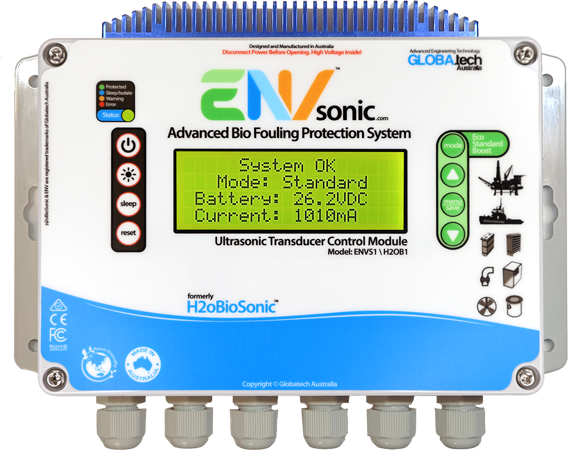 Advanced Ultrasonic Control Module. Self AwarE.
The ENVSonic control module is the brains of the solution and generates the ultrasonic output to drive and monitor both itself and the transducers. Through constant measuring of a plethora of temperature, voltage, input and current sensors the control module runs an advanced proprietary algorithm to generate the output to the transducers. 
ENVSonic systems include individual transducer monitoring and calibration functions. Monitoring to determine the health and integrity of each transducer and calibration to ensure the built in algorithm knows exactly how the transducer has profiled it's new environment and carefully construct the best protection. Transducer monitoring can even detect when a transducer is not bonded properly to your vessel and shut down the channel so it can be fixed without damage.
Only solution to carry FCC, CE, RCM compliance tested certification
2 Year Warranty. Peace of mind
12 or 24VDC natively with Dual un-interrupted AC / DC Options
Full Character display. All information, available all the time. Along with a RGB quick view LED
3 Output Power Modes at the touch of a button for convenience in power conscious environments; ECONOMY. STANDARD. BOOST.
2 and 4 Channel Systems Available. Use of multiple systems for larger installations, no problems.
Internal fused protection, with monitoring
IP67 Polycarbonate Enclosure with anodized aluminium heatsink
Vessel integration with isolation control and alert output
Specific operating mode configuration from within system menu. Tell the device where it's installed and it will tailor the output algorithm even further.
Individual Channel control. Using only 3 of the 4 channels? No problem, just turn off the channel(s) not in use from the system menu
Built in 4 and 8 hour sleep/isolation function
Real-time data recording. Internally recording timers for life
Key System Benefits & Features
Reduced fuel consumption by up to 30% & reduce trip times with a clean hull, rudders and props. 
No Toxins, No Biocides, No Heavy Metals and reduced consumption. Environmental protection at it's best.
No docking necessary*, No expensive ongoing maintenance parts, No through hull parts or welding required.
Reduced downtime, extended docking intervals, improved reliability, reduced fuel consumption, improved trip times.
Simple Vessel Integration
Vessel monitoring and integration with SCADA and others for isolation control and error detection.
Native 12 / 24VDC & uninteruptable dual power options. 100 – 240VAC No problems.
Automatic individual transducer calibration & advanced targeted algorithms for improved protection.
Individual Channel Control
Each Transducer monitored and tested with individual channel isolation and control. Detects issues and maintain protection, always.
3 built in power modes control the output level.
Low Power, Normal output and Boost. It's up to your application requirements.
ECONOMY. STANDARD. BOOST.
Tell the system where it is installed for even better results. Modes; Hull/Chest, Box Cooler, Heat Exchanger, Running Gear, Pipe, Water Column.
The only system in the world that carries FCC, CE & RCM certification for the entire system. 
Gold plated, Lead Free, Conformally Coated.
ROHS compliant, marine grade PCB's.
* Installations within ballast tanks require class approved cable penetrations where docking is usually necessary.
Enquire here about ENVSonic systems
Find out more, open a dialogue or just get in touch below.